As specialist in Port engineering our services provided among others are: design of new port facilities and extensions, technical Assistance, monitoring and control of port building work, analysis and modelization and docks and navigation channels studies.
The following departments can be distinguished:
Design of new port facilities and extensions

Study of alternatives

Dykes, docks, lowlands

Marinas and leisure ports

Impact of port projects on the coast

Technical Assistance and monitoring and control of port building work

Analysis and modelization

Maritime climate

Inner wave agitation

Wave propagation

Currents

Docks and Navigation Channels

Characterisation and study of dredging operations

Manoeuvrability of vessels

Expert port reports
Outstanding project
PRELIMINARY PLAN FOR EXTENSION OF PASAJES PORT.
The objective of the work undertaken by HIDTMA was the execution of the Preliminary Plan for the Extension of the Pasajes Port for the Pasajes Port Authority.
The tender was adjudicated to the HIDIBE Joint Venture, consisting of the HIDTMA and Iberinsa companies.
The ground plan port designs were undertaken jointly by HIDTMA and Iberinsa.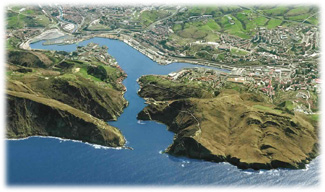 The activities specifically carried out by HIDTMA were:
Bathymetry: Upon an area of 10 km2, HIDTMA employed an integrated system of sonar and multibeam bathymetry. The multibeam system is a multiple echosounder of 240 kHz, which measures the relative depths of the column of water on a width of beam perpendicular to the vessel's trajectory.
Land survey.
Definition of wave characteristics in deep waters.
Determination of current conditions.
Determination of wave characteristics on-site: From the wave conditions in deep waters and using the results of wave propagation to the building site, the extreme and average on-site wave conditions were obtained.
On-site wave propagation at building site: The propagation was undertaken for a spread of 8 directions spaced at 22.5 º and ranging between WNW and ENE. For each of these directions 3 wave periods were propagated, with the MIKE 21 NSW model, developed by the Danish Hydraulic Institute.
Analysis of inner wave agitation: On the basis of the results of the studies previously carried out to this effect, wave propagations were undertaken for three directions in deep waters. The simulations were executed using the MIKE 21 BW model.