HIDTMA group has extensive experience in Coastal management and engineering.
HIDTMA has the most advanced tools and techniques for carry out studies such as data collection equipment, numerical models and laboratory
Among our services in Coastal management we would highlight:
Integrated coastal ordination studies

Socioeconomic and investment studies.

Urban planning and tourist usage

Strategic management plans.

Integrated coastal action projects.
About Coastal engineering, we are specialist in:
Design and regeneration of beaches

Design and study of coastal activities

Evaluation of impact of coastal building work.

Infrastructure of beaches: seafronts, paths, accesses

Monitoring and control of beach evolution.

Sand transfer projects (port by-pass)

Sedimentary dynamics of estuaries and marshes

Location and study of marine sand banks

Recovery of wetlands and natural spaces

Protection and restoration of dune systems

Integrated Coastal Management studies

Outstanding Project
COASTAL DYNAMICS OF THE HUELVA COAST
The Integrated Study of the Coast of Huelva, a project involving technical assistance contracted by the General Directorate for Coastal and Sea Sustainability from HIDTMA, had four fundamental phases: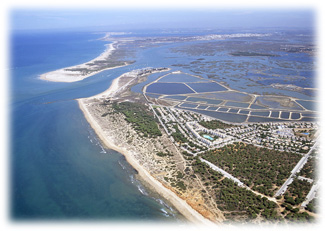 Gathering of existing information (bathymetry, geophysics, natural environment, contamination, urban planning, boundaries, socioeconomic studies, etc.).
Selection, digitalization and homogenisation of the information of interest.
Execution of field and office work (bathymetry, topography, modelizations, polls, etc) to complete existing information.
Study of coastal dynamics and the evolution of the coastline. (1953-2010)
As a solution to existing information management, an information viewfinder was implemented, via computer tools based on GIS for the visualisation and exploitation of all the information.
The steady increase of available information relating to the coastal environment has established the need to implement a visual tool capable of easily and quickly combining this large volume of information, permitting the simultaneous visualisation of different thematic information for one same territorial unit.